To show intelligent Call to Action (CTA) buttons that display different messages/actions to different levels of readers, you need to insert them in your post or build them into a template snippet for Ghost. (Note: this feature is only available on Luna+ level plans. You can ask to update here.)
Here's an example:
There are 4 variations of the CTA, which lets you customize how you deliver messages:
Shows to all levels of readers (unknown, free, monthly, annual, complimentary)
Shows messages to non-supporters, e.g. unknown and free; paid/complimentary see nothing
Shows messages only to unknown readers
Shows messages only to your paid and complimentary members
To add one in, click the +, scroll, insert.
you will only see a block in writing interface, but you can see it in preview.
insert pics of how to insert and what it looks like in editor and in preview
What's below is how to re-create the buttons if you accidentally delete them or they are missing. Move to a different article.
---

This will take you to our Button Wizard, where you can create customized buttons: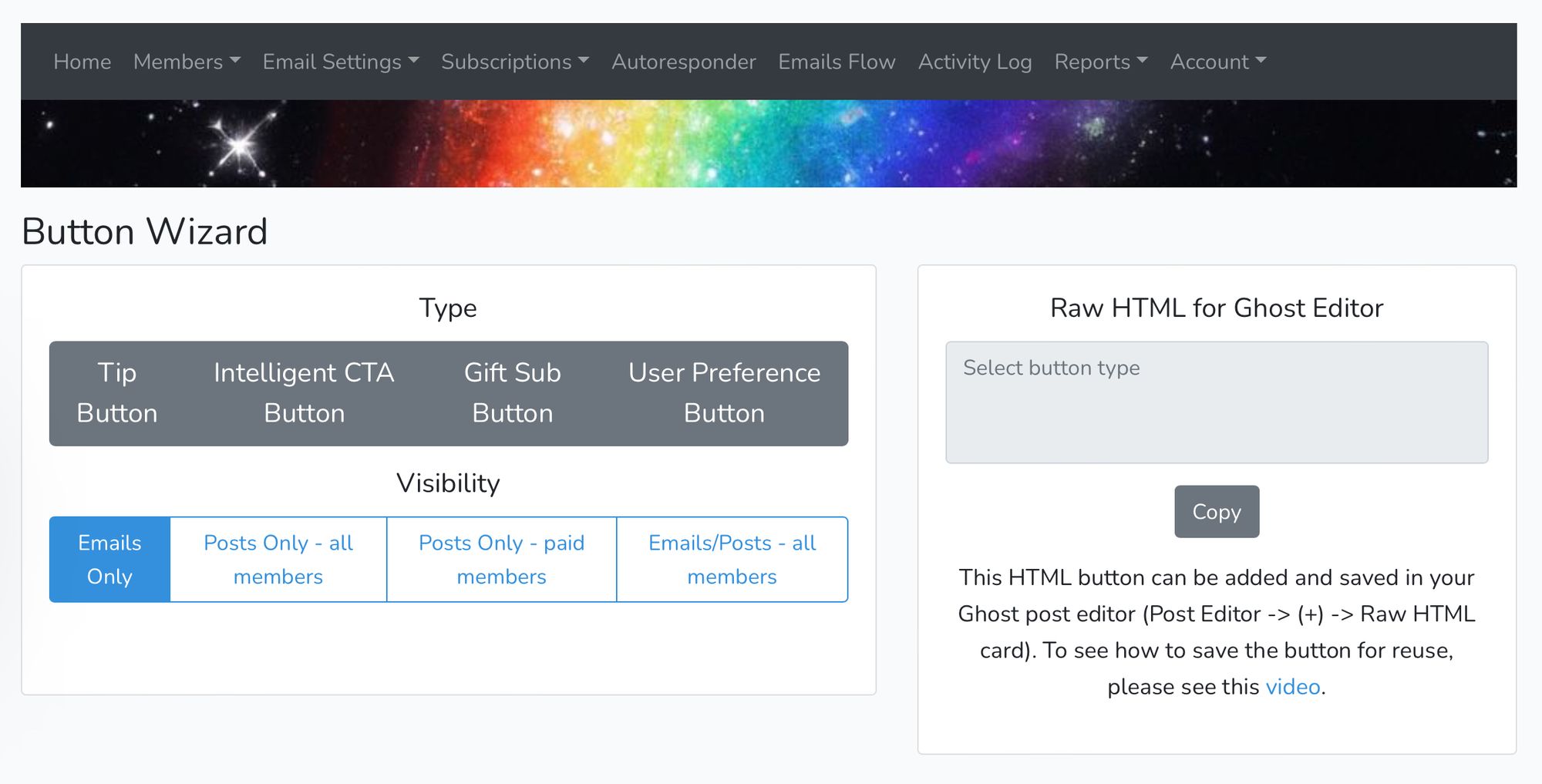 The two bar-like menus on the left provide all your options. There's no need to make Tip Jar Buttons, all your Tip Buttons should already be saved as snippets for you in Ghost.
If for reason you don't see them when you click Ghost's "+" menu on the left side of a Ghost Editor page (you'll have to scroll down to the bottom of the menu to find your snippets), then the Button Wizard is where you can generate your own Tip Button script to save as snippets in Ghost.
Let's start with the Intelligent CTA Button options:

After you click Intelligent CTA Button, you'll see your options pop up: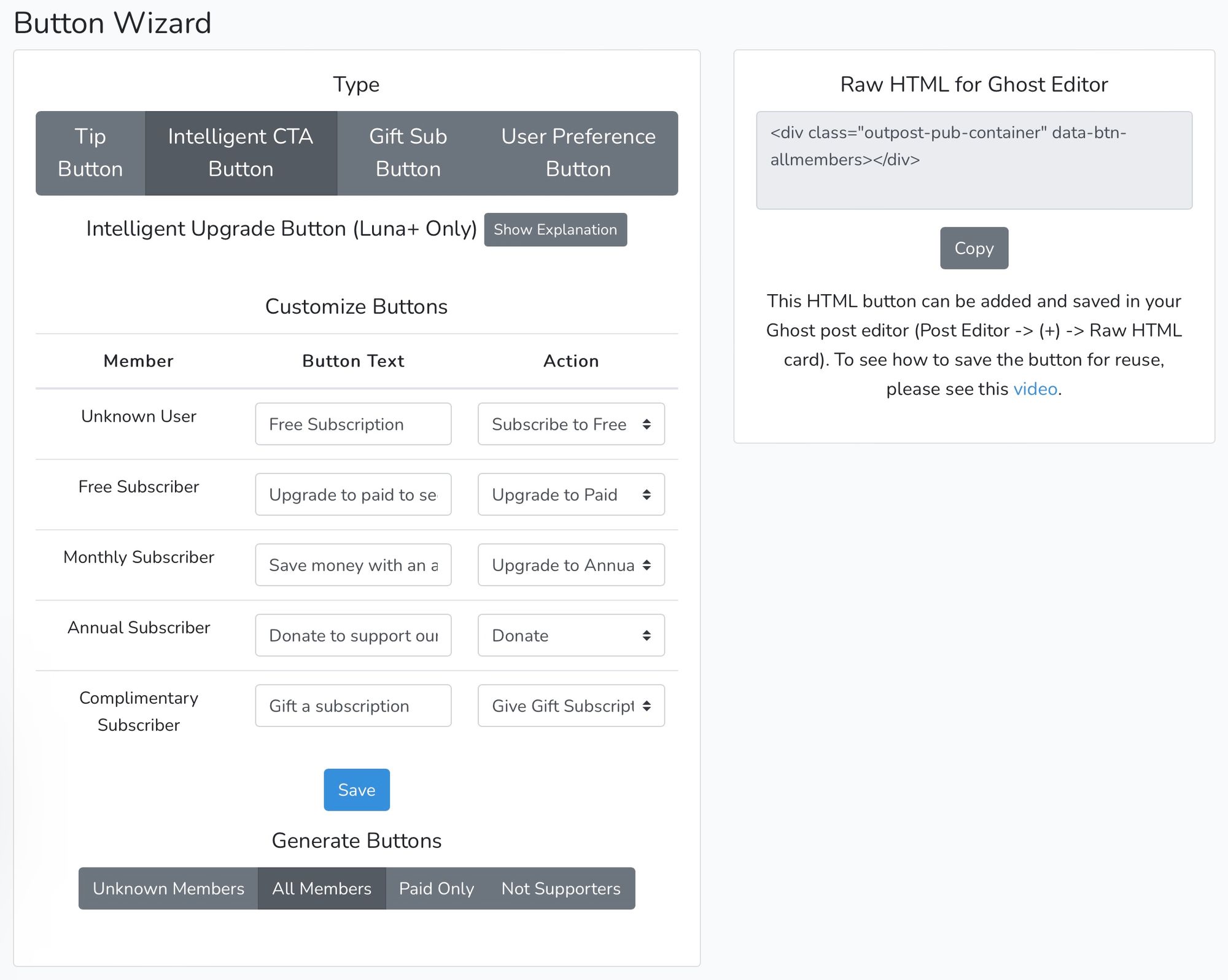 From here, you'll be able to create buttons with customized text and actions, that affect different membership levels differently. Paid subscribers won't see the buttons that Free or Unknown subscribers will, and vice versa.
You can get creative, for example you can create a CTA button only Complimentary Subscribers see that prompts them to send a complimentary subscription to someone else, or donate to help support you.
When you click on an action for a member group, you'll see your options pop up. Below, you can see the actions for Unknown users. The default is to prompt unknown/unsubscribed to upgrade to a free subscription, but you can choose to prompt a paid subscription, or a tip; anything you choose.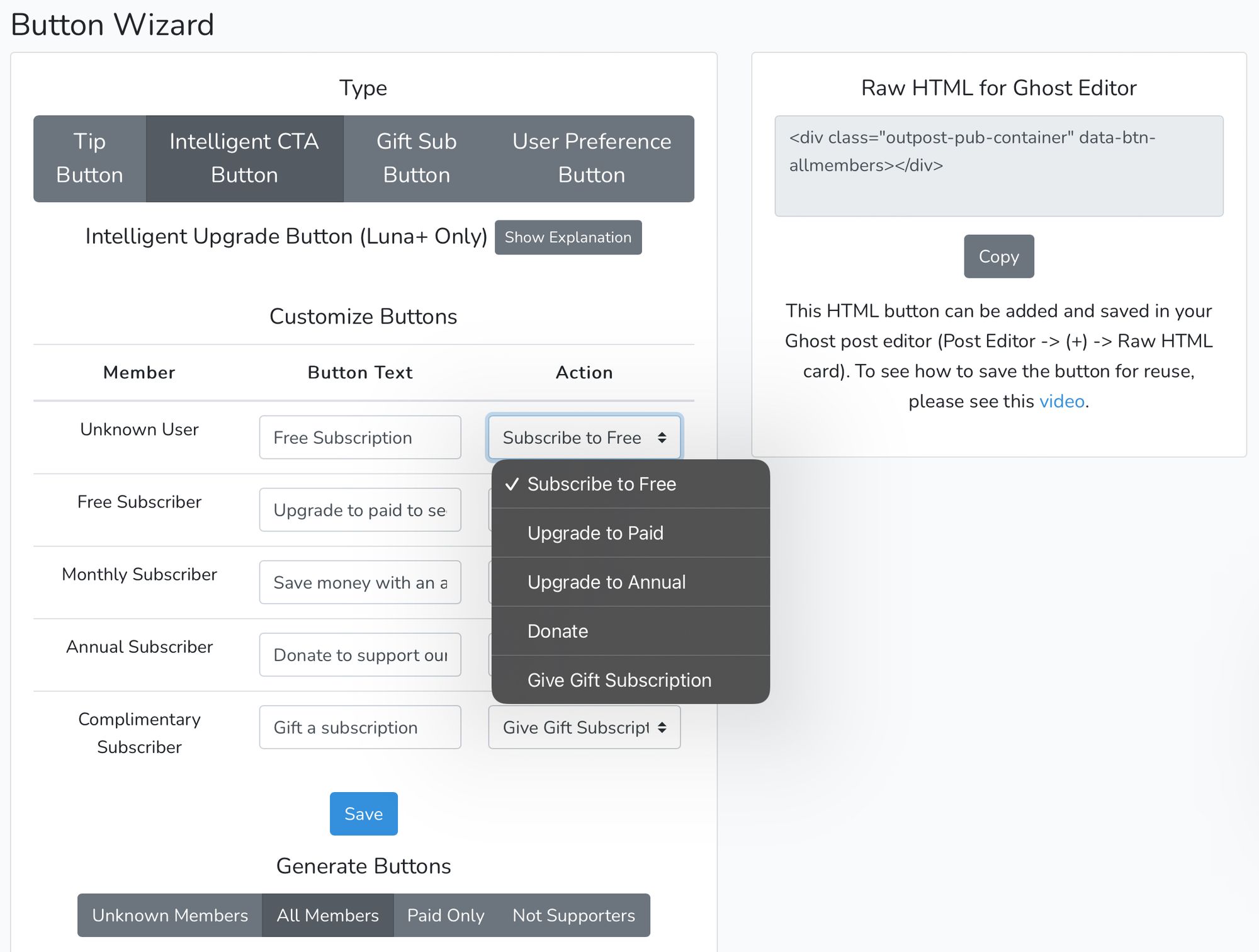 Since the button is made for Unknown members, only unsubscribed readers will see the button; free and paid members won't see it, making for a seamless reading experience for subscribers.
---
Go to the main documentation page. Or contact support@outpost.pub if you have questions.